Who York
Events in New York City - by Doctor Who fans, for Doctor Who fans
Alonso Allons-y! An Evening With Midshipman Frame: Russell Tovey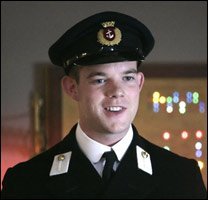 Sunday March 7th, 2010 at Cafe 50 West from 6.30pm
Come along to our 2nd
who_york
Event and meet the wonderful and talented Russell Tovey! Best known to Doctor Who fans as Midshipman Alonso Frame from the 2007 Christmas Episode "Voyage of the Damned", Russell is also making a name for himself in the hit BBC3 Series "Being Human" - coming soon to BBC America - where he play George and every 30 days has to deal with a hairy dilemma, all the while trying to lead a normal life!
Who York
is delighted to be able to host Russell while he is in New York City. We'll be hosting a Q&A panel session, and there will be an autograph session (see details below) and hopefully a surprise or two!
We have room for around 100 people in total, so this will naturally be a more intimate event than most conventions you may have attended.
Entrance is $15 per person in advance and will be $20 on the door. This is to cover our expenses. Food and drink at the bar is "pay as you go".
Autograph Policy: To make this event possible, Who York will need to charge for autographs at this event. Russell will sign a personal item for $20 each. Russell will also have pictures available for signing at $20 each, which will be signed for free!
Everything we do at
who_york
is run by fans for fans, as a "for fun" enterprise. We hope you can join us.
To purchase advance tickets
click here
and go to "Register" at the top of the page.